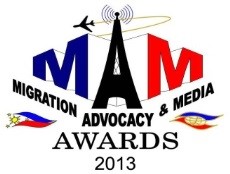 CONGRATULATIONS 2017 MIGRATION ADVOCACY & MEDIA AWARDS WINNERS !
The Commission on Filipinos Overseas congratulates the 10 best media works that won the 2017 Migration Advocacy and Media Awards.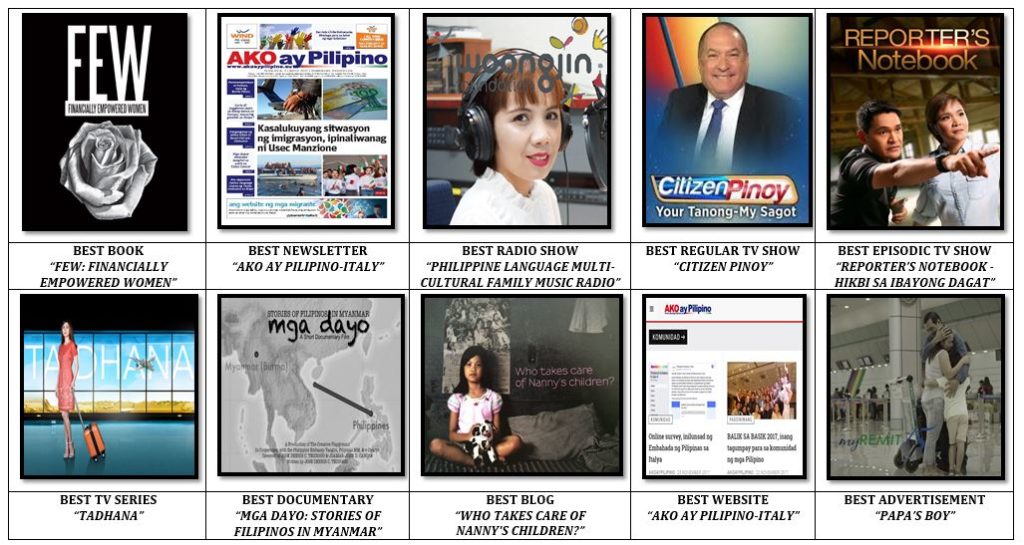 The Commission on Filipinos Overseas will confer the 2017 Migration Advocacy and Media (MAM) Awards to 10 best media entries from the Philippines and abroad, at the PICC, Pasay City on December 18, 2017, which is also the International Migrants Day. Now on its sixth year,  the MAM Awards was conceived in 2011 by the CFO to recognize the significant role of the media in raising public awareness on issues related to Filipino migration, and the challenges of migration and development, and advocating the cause and promoting a positive image of Filipinos overseas.
The following are the 2017 MAM Awards winners:
BEST BOOK ON MIGRATION – FEW: FINANCIALLY EMPOWERED WOMEN (Singapore). The book by ASKI Global Limited is a collection of success stories of ASKI Global students – women who have gone from having little or no awareness of financial management to eventually being able to take ownership of their finances and make informed decisions on financial issues after attending the financial literacy course. Now, they are on the road towards financial freedom. They are the FEW: Financially Empowered Women.
BEST NEWSPAPER ON MIGRATION – AKO AY PILIPINO (Italy). A free monthly newspaper magazine in Filipino language, featuring news and articles of general interest to overseas Filipinos in Italy.
BEST REGULAR RADIO SHOW ON MIGRATION – PHILIPPINE LANGUAGE MULTICULTURAL FAMILY MUSIC RADIO (South Korea). The radio program by Woongjin Foundation and hosted by Maria Genevie Kim, delivers news, music and information about the Philippines and South Korea. Listeners can also learn Korean language and have a better understanding of Korean culture.
BEST REGULAR TV SHOW ON MIGRATION – CITIZEN PINOY (USA).  The weekly TV program by ABS-CBN Global and hosted by Atty. Michael Gurfinkel,  specializes on helping the Filipino community deal with immigration issues and legal problems in North America. It focuses on US immigration laws, issues, and procedures, and presents complex immigration topics in plain terms, enabling viewers to better understand their rights, options, and possible solutions to their immigration problems.
BEST EPISODIC TV SHOW ON MIGRATION – REPORTER'S NOTEBOOK: HIKBI SA IBAYONG DAGAT (Philippines). The special TV episode by GMA-7 hosted by Maki Pulido and Jiggy Manicad, features the plight and challenges faced by two OFWs in Hong Kong, who are both battling with cancer. Despite their difficult situation and their longing to be with their family back home, they still chose to stay in Hong Kong to avail of the free public health services.
BEST TV SERIES ON MIGRATION – TADHANA (Philippines). The weekly drama anthology of GMA-7 hosted by Marian Rivera, features the colorful, romantic, heroic, challenging and inspiring stories of overseas Filipinos workers from around the world.
BEST DOCUMENTARY ON MIGRATION – MGA DAYO: STORIES OF FILIPINOS IN MYANMAR (MYANMAR). The documentary of Jose Dennis Teodosio features the inspiring lives and contributions to their community of six Filipinos who made Myanmar their second home.
BEST BLOG ON MIGRATION – WHO TAKES CARE OF NANNY'S CHILDREN, pulitzercenter.org/projects/asia-philippines-uae-dubai-paris-nanny-overseas-migrant-labor-work-children (Philippines). The blog of Ana P. Santos contains a series of articles and short films, which centers on the lives of Filipina women migrants in Dubai and France and their families left behind.
BEST WEBSITE ON MIGRATION – AKO AY PILIPINO, akoaypilipino.eu (Italy). The online version of the Ako ay Pilipino newsletter-magazine features news and articles of general interest to overseas Filipinos in Italy.
BEST ADVERTISEMENT – PAPA'S BOY (Philippines). The advertisement of ABS-CBN is about a father who left his wife and son at a very young age to pursue a better opportunity abroad and provide for his family's needs. He will be returning home with his son all grown-up.
The panel of judges for the MAM Awards is headed by CFO Interim OIC Maria Regina Angela Galias with members from the different migration and media institutions, which include Philippine Migrants Rights Watch, National Commission for Culture and the Arts, Presidential Communications Operations Office, Philippines Information Agency, Film Development Council of the Philippines, and National Press Club of the Philippines.
For more information, please contact the MAM Awards Secretariat c/o Mr. Rodrigo Garcia, Jr. (tel. no.: +632 552-4765, email: rgarcia@cfo.gov.ph)  or Mr. Frencel Tingga (tel. no.: +632 552-4766, email: ftingga@cfo.gov.ph).
The Commission on Filipinos Overseas Congratulates the 10 Best Media Works That Won the 2017 Migration Advocacy and Media Awards